Thursday, June 12, 2014
Armani has hired the emerging fashion photographer Boo George for his new men's and women's Emporio Armani fall-winter 14/15 advertising campaign. The photographer was the winner of 'The Shot 2013', a competition jointly sponsored by the International Centre of Photography and W magazine with the aim of finding the next generation of fashion photographers.
The campaign is shot in Ireland on Dollymount Strand, a beach on the north coast of Dublin Bay and will appear in international publications this month.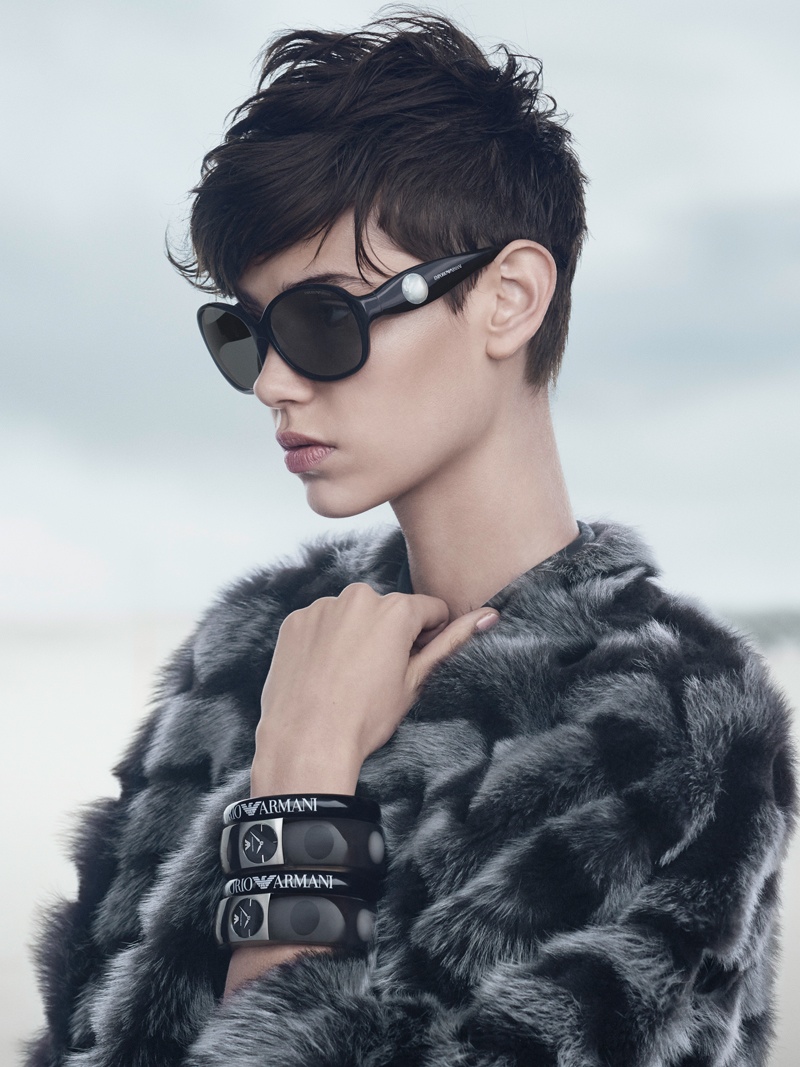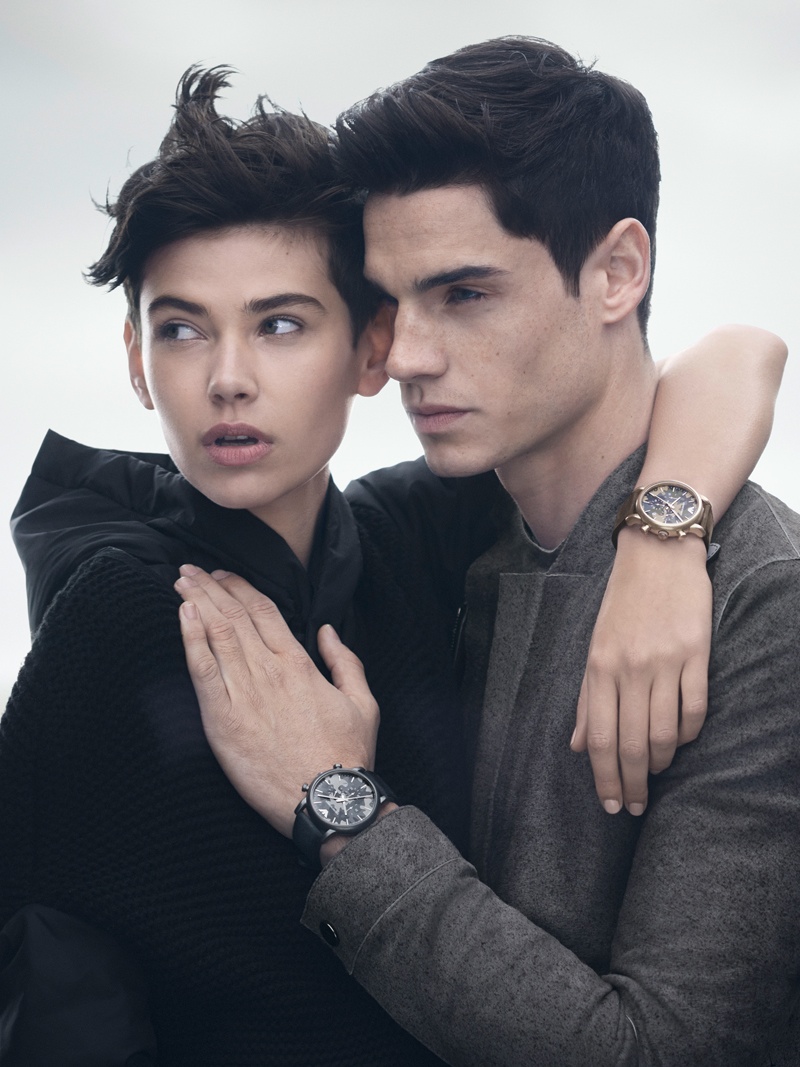 (Photos: Boo George)
Thursday, June 12, 2014
(Photo courtesy of Shinola)
Watch making is not the first thing that comes to mind when one thinks "Detroit". However, since 2011, the city has become the American watch-making capital, thanks to Shinola, the three-year old company that, under the slogan "Where American is made", produces not only timepieces, but also bicycles, leather goods, and journals...all in Detroit.
By setting up in Detroit, the company intended to convey a clear message about its intentions regarding quality, industrial heritage, and its "Made-in-America" credentials, as well as using the location as a sort of differentiator, i.e. a vision of domestic revival and hope in a city lately more associated with municipal bankruptcy and industrial decline than enterprise.
Shinola sold 50,000 watches last year and is on track to triple that number this year. Following on its success, earlier this month it opened an in-house leather factory in the same venue as its watch factory (incidentally, making the leather strap for a Shinola watch is a 26-step process.), which is located by sheer happenstance within the College for Creative Studies' Argonaut building, General Motors' former automotive research lab.
By the way, thumbs up to Shinola for their quirky Father's Day campaign (warning: You may end up buying dad a bicycle.)
(Photo courtesy of Shinola)
Wednesday, June 11, 2014
(Photo: Zara)
As reported by Reuters today, Zara owner Inditex is about to join China's Tmall online marketplace to strengthen its position in a country that is already its second biggest by store numbers behind Spain.
Tmall is part of the Chinese e-commerce giant Alibaba and offers virtual store fronts to merchants who set their own prices and handle their own logistics for nearly everything but payments. Other Western brands to join TMall recently include Britain's Burberry and ASOS.
Inditex has more than 457 stores in China, with sales estimated to account for about 5 percent of its total turnover.
Source: Reuters
Tuesday, June 10, 2014
There is time until tomorrow to grab a piece of iconic Hollywood. Christie's Photographs Department is auctioning online only a group of portraits of Hollywood icons, ranging from the 'Golden Age' of cinema through to present day. Appropriately named 'Hollywood Icon', the auction includes works by the great studio photographers and also unseen images by Terry O'Neill, who immortalized the Hollywood star of the 60s and 70s, such as Brigitte Bardot, Raquel Welch, Paul Newman, Audrey Hepburn, Elizabeth Taylor, Serge Gainsbourg, and Jane Birkin. The 70 pieces range from £600 to £15K.
A group of works is part of the John Kobal Foundation, a foundation of eminent collectors in the field of cinematography. This collection includes some of the most important portraits by Lazlo Willinger, with photos of Fred Astaire, Ingrid Bergman, Norma Shearer, and the beautiful image of Robert Taylor together with Vivienne Leigh.
Norma Shearer, MGM, 1939 (Photo: Laszlo Willinger. Courtesy of Christie's)
Special attention will certainly receive the portraits of Marilyn Monroe, featuring the actress in different stages of her career, including some shots of Bern Stern, who photographed her for Vogue shortly before her death in 1962.
And then there are the portraits by Mark Seliger, Annie Lebovitz, Irving Penn, and Martin Scholler of contemporary Hollywood: a pregnant Demi Moore, Johnny Depp playing the piano, Leonardo di Caprio with boxing gloves, semi-nude Gwyneth Paltrow, Jessica Alba in black and white, and Angelina Jolie in one of her most famous close-ups (with a bloody lip vampire-style).
Johnny Depp, Madame Simon Residence, France, 2003 (Photo by Mark Seliger. Courtesy of Christie's)
Source: La Stampa
Monday, June 9, 2014
Francois-Henri Pinault, Chairman and CEO of Kering
Kering scores high for its green credentials. In this year's Newsweek Green Rankings, compiled by the U.S. magazine in partnership with Corporate Knights Capital with the aim to evaluate the world's largest companies (by market capitalization) on corporate sustainability and environmental impact, the French luxury giant (Gucci, Bottega Veneta, Stella McCartney, Puma, among others) ranks fourth.
The evaluation and ranking process takes into account several factors, including the efforts on waste management, energy efficiency projects, as well as attention to issues such as climate change, rising energy costs and water consumption.

Notably, Kering is the only company within the fashion industry to make it in this year's top ten, where it is preceded by Vivendi (Telecommunication Services), Allergan (Health Care), and Adobe Systems (Information Technology). To find LVMH, Kering's biggest competitor, one has to scroll down the list to the 75th place. However, it must be noted that Dior, part of the LVMH conglomerate, ranks no. 15. Among the other best-ranking fashion and luxury brands at no. 17 is Adidas, followed by Nike at no. twenty-first, while Richemont and L'Oréal occupy no. 33 and no. 35 respectively. As for the two giants of fast fashion, Inditex and H&M, they are placed at no. 91 and 95.
Beside the list covering the largest corporations worldwide, another ranking focuses on the 500 largest publicly traded companies in the U.S. In this case fashion companies slip further down below the top ten, with Nike in thirteenth place, Kohl's at no. 118, and Tiffany and VF, respectively at no. 150 and no. 154.
"What we're seeing more and more is a direct link between corporate sustainability, reputation, and financial success," said Elijah Wolfson, senior editor at Newsweek. "Many of the world's largest public companies have begun to recognize that in order to be successful moving forward, they need to openly account for their environmental impact. The goal of Newsweek's Green Rankings is to add to and push for this type of accountability."
(Image: Pambianco News via Newsweek Green Rankings 2014)
SERVICES
LOCAL INTELLIGENCE, GLOBAL REACH
DISTRIBUTION & SCM
PROVIDING WAREHOUSING, LOGISTIC & SCM

RETAIL & FRANCHISING
EXPERT ADVICE, EXCLUSIVE EXPERIENCES

BLOG
STYLE IS THE DRESS OF THOUGHTS
55 St. Clair Ave West
Toronto, ON, M4V 2Y7, Canada