Wednesday, July 2, 2014
The Canadian-born, London-based designer Erdem Moralioglu continues his tribute to femininity and elegance with the Spring/Summer 2015 pre-collection. Flower prints in trompe l'oeil effect, 3D lace appliqués in black & white mode, hypnotic polka dots and geometrically defined outerwear define a collection of high visual impact.
Source: LuxGallery
Images: LuxGallery
Tuesday, June 17, 2014
In a period of over five decades Gerald Roy and his partner, Paul Pilgrim, amassed one of the largest private collections of quilts in the world. Both trained in the fine arts, what attracted Pilgrim and Roy to the quilts was their deep interest in colour, as they noticed how those early American quilters used colour as the primary design element, thus anticipating what the Abstract Expressionists would do nearly a hundred years later.
Until July 27th one can view 59 distinctive quilts from the Pilgrim & Roy Collection in an exhibition at the Museum of Fine Arts in Boston.
Mrs. Ephraim Scott, Sunburst quilt, American, 1856. Pieced printed cotton plain weave top, printed cotton plain weave back and binding; quilted. Pilgrim/Roy Collection (Photo: MFA Boston)

Typically, anonymous women from diverse communities - stretching from 19th-century Massachusetts and Amish and Mennonite Pennsylvania to Depression-era Missouri - made the quilts. Quilting was not only a way for them to make a living, but also gave them a voice in a time when there were few opportunities for women to express themselves artistically.
The exhibition is divided into eight sections, based on eight colour theories and techniques. The first section is called "Vibrations" and it presents quilts where complementary colours - e.g. red and blue or green and orange - are used side by side to make each appear more intense. The quilters' colour combinations cause the eye to see a "vibration" where the colours meet. The resulting effect is powerful and it is only a further testimony to the quilters' theoretical knowledge on colour and optical effects that some of them would add an adjacent colour to lessen the effect on the eyes.
Quilts and Color. The Pilgrim/Roy Collection @ Museum of Fine Arts, Boston, April 6, 2014 - July 27, 2014
Source: Pantone View, WCVB
Tuesday, June 17, 2014
As Florence becomes the capital of menswear for the next four days with the 86th edition of Pitti Immagine Uomo trade show (17-20 June), we take a look at those cult pieces in any menswear collection, i.e. blazers and jackets, two categories where companies exhibiting at Pitti always compete on innovation and quality.
Gabriele Pasini (Photo: Press Office via La Stampa)
Acquarama (Photo: Press Office via La Stampa)
Acquarama (Photo: Press Office via La Stampa)
Goose Tech (Photo: Press Office via La Stampa)
Geox (Photo: Press Office via La Stampa)
Sunday, June 15, 2014
(Photo: Bloomberg TV)
About 1.8M people visit Tiffany & Co's iconic New York flagship store each year. Of these, only a few hundred will have the opportunity to visit Tiffany's "secret" room, a by-appointment-only salon that houses the flagship's most over-the-top pieces. The way you gain acces to it is either by referral or by spending a lot of cash. While the price range on offer in the salon is quite varied (from $20K to several millions), some of its customers would come in with a specific request for a particular gemstone, which may take Tiffany & Co. years to procure (specifically, less than .02 of 1K diamonds meet Tiffany's standards). Jeff Bennett, Tiffany's VP for the New York City region, offers a look at both Tiffany's secret room and some of the most exquisite gems on display.
Source: Bloomberg TV
Friday, June 13, 2014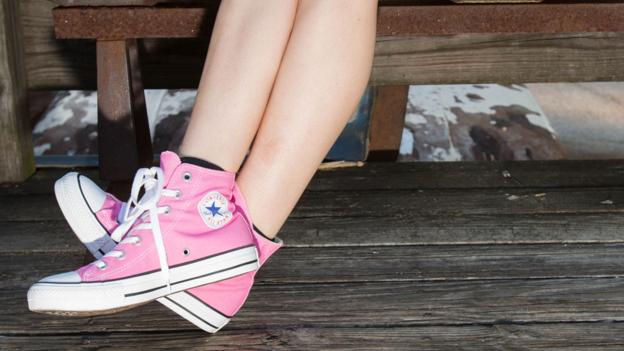 (Photo: Corbis Images via BBC Culture)
"As one of the most democratic – and omnipresent – footwear icons of American pop culture, with fans ranging from young skater dudes and grungy rockers to Michelle Obama, Converse's Chuck Taylor All Star boasts as colourful a history as the brand's rainbow range of shoes. A masterpiece of utilitarian design, with its sleek lines and textured contrast of canvas and vulcanized rubber, the trainer's black-and-white beginnings were rooted in basketball.
Founded in 1908 by Marquis Mills Converse in Malden, Massachusetts, the Converse Rubber Shoe Company started out as a specialist in winterised rubber-soled shoes and boots. Within a few years, the firm had branched out into the athletic footwear market, at first targeting sports such as tennis, netball and football (at the time, Spalding had the basketball beat covered). Its first basketball shoe, the Converse All Star, was released in 1917, although the man behind its success – Charles 'Chuck' H Taylor – was to enter the picture a few years later."
Read more at BBC Culture
SERVICES
LOCAL INTELLIGENCE, GLOBAL REACH
DISTRIBUTION & SCM
PROVIDING WAREHOUSING, LOGISTIC & SCM

RETAIL & FRANCHISING
EXPERT ADVICE, EXCLUSIVE EXPERIENCES

BLOG
STYLE IS THE DRESS OF THOUGHTS
55 St. Clair Ave West
Toronto, ON, M4V 2Y7, Canada